Freelance copywriter? Nah, you're just a dole-bludger!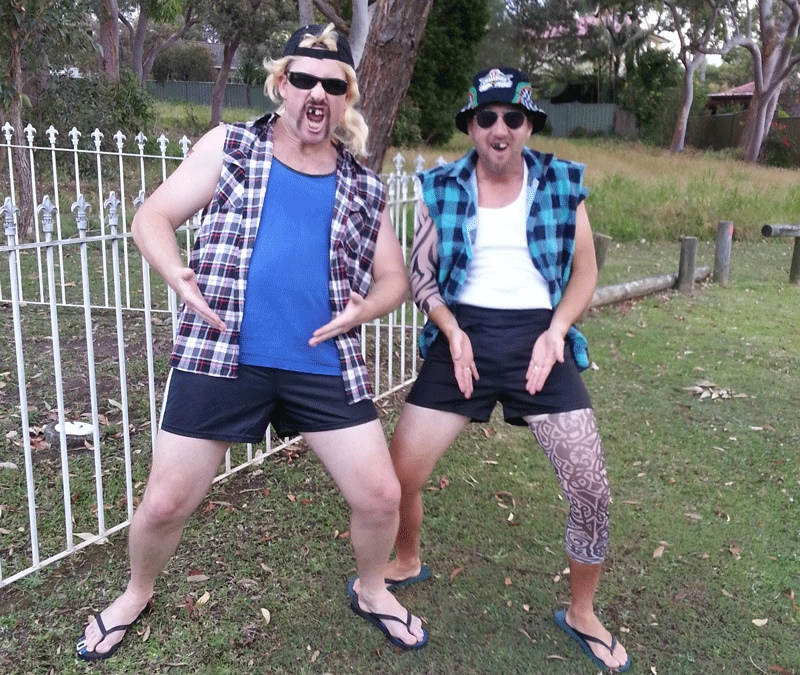 Something interesting happened to me the other day. Something a little disturbing. And it got me wondering if it's happened to other freelance copywriters too.
But first, a little context…
My house is right next-door to a council reserve. It's almost surrounded by trees called Angophoras – a flowering variety of Eucalyptus or 'gum' tree. Here's what I see when I stand in the back-yard and look up…
Every year, these trees develop a covering of white blossom. Sometimes a light covering, sometimes a blanket. This year was a blanket year.
(Bear with me, I'm getting to the disturbing bit. And no, that photo of me isn't it!)
After a couple of weeks, all these flowers fall off. Not the whole flower as a single unit, mind you. Their wispy-thin, hair-like 'petals' all fall separately. Millions of them. Almost like snow. I filmed it on the worst day, and although the footage doesn't truly do it justice, you'll get some idea. Just be sure to watch it in full-screen HD. (My son put his swimming goggles on that day, because he said he couldn't see properly without them!)
That video might look quaint and summery (and it was), but there's still one thing I haven't mentioned: I have a pool. Here's one night's worth of debris:
So now we get to the crux of the story. You see, my neighbour (Peter) up the road has a pool too. Usually Peter and I just wave and say Hi; we don't spend any time talking. But the other day, I was in the reserve building a BMX track for the kids, and he was walking his dog, and we got chatting about the flowers.
He said they're the bane of his life, because they form a brick in his pool filter, and it takes him forever to clean it out. I replied that I feel his pain, but fortunately I don't mind cleaning the pool. Assuming I have the time, I find it quite therapeutic. His response?…
"I don't mind cleaning it either but I never have time BECAUSE I WORK ALL WEEK."
(Emphasis added.)
And that, right there, is the disturbing bit. Apparently my neighbours think I don't work at all. I'm a dole-bludger!
While I'm no fan of that term, I don't like people thinking I'm a bludger. So now, every time I see Peter or the flowers or the mess in the pool, all I can think is how I want to explain myself. "But I do work, honest!"
How can I find a way to tell him that as a freelance copywriter, I work many, many hours every week? And that when I'm not working, I feel I should be? How can I remind him that I have 3 young kids (he's near retirement age)? And that to top it all off, I get more flowers in my pool than him, because I live right on the reserve, whereas he lives up the road from it?
Knowing me, I'll spend the next 5 years obsessing about it.
Has this happened to you?
Do your neighbours think you're a dole bludger? Or a rich retiree? Do you bother to correct them?